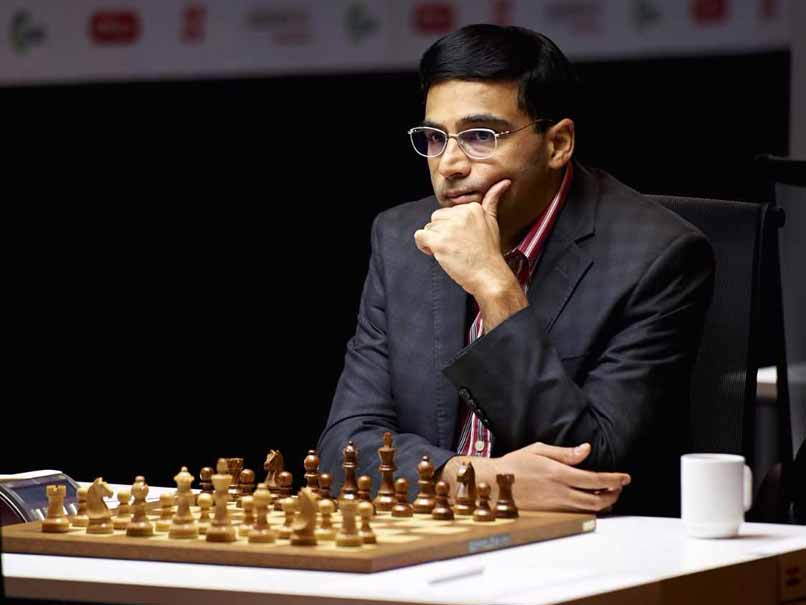 Viswanathan Anand Bows Out Of World Cup
[ad_1]

Five-time world champion Viswanathan Anand crashed out of the World Cup after playing out a draw in a must-win game against Anton Kovalyov of Canada in the second round on Friday. Playing in this knockout event after a gap of 15 years, Anand had lost the first game against Kovalyov and had to win the second to level score and force a subsequent tiebreaker. However after 31 moves, Anand decided that he did not have much hopes of winning and offered a draw to sign his exit. This might well be the end of Anand's aspirations for a World Championship match in 2018 unless he gets a wildcard in the next year's candidates' tournament.
As per rules, one wildcard is issued and if Anand gets that he will be back in the World Championship cycle. If not, the Indian will have to wait for the next cycle that will be for the 2020 World Championship.
Things had not been very smooth for Anand here and it was another bad day in office. To win on demand as black is a very difficult task against quality opposition in today's chess and that was the primary reason for Anand's ouster.
The English opening by the Canadian gave white a little advantage and Anand's attempt at complications did not materialise as much as he might have liked.
Meanwhile, Grandmaster Vidit Gujrathi continued with his impressive run and defeated Le Quang Leim of Vietnam 1.5-0.5 to enter the second round. Gujrathi drew the second game fairly easily and his win as black in the first game came in handy.
GM B Adhiban played out a draw with Ian Nepomniachtchi of Russia for the second time in two days and the two will now face-off in the tiebreak games.
The all-Indian duel between S P Sethuraman and P Harikrishna also ended in a draw after a thrilling game to set up the tiebreak games. It may be recalled that in the last World Cup Sethuraman had ousted Harikrishna in the same round.
Besides Anand, defending champion Sergey Karjakin of Russia and Michael Adams of England were the other big names who were knocked out.
Karjakin was outdone by his younger compatriot Daniil Dubov while Adams lost to Maxim Rodshtein of Israel.
The World Chess Cup started with 128 players in the first round on a knockout basis with USD 1.6 million as total prize pool. Besides there are slots for the top two finishers in the next Candidates' tournament.
Each round has two games under normal time control followed by tiebreak games of shorter duration in the event of a tied result.
Two games with 25 minutes each and a ten second increment are played first, followed by two more games with ten minutes each and a ten seconds increment.
If the deadlock continue the players fight it out in two blitz games of five minutes and if still tied, a final Armageddon game is played to determine the winner.
Promoted
Important and Indian results after round 2 game 2:
Aleksey Dreev (Rus) lost to Magnus Carlsen (Nor) 0-2; Wesley So (Usa) drew with Matthias Bluebaum (Ger) 1-1 goes to tiebreak; Lenic Luka (Slo) drew with Fabiano Caruana (Usa) 1-1 goes to tiebreak; Vladimir Kramnik (Rus) beat Anton Demchenko (Rus) 1.5-0.5; Hou Yifan (Chn) drew with Levon Aronian (Arm) 1-1 goes to tiebreak; Shakhriyar Mamedyarov (Aze) drew with Yuriy Kuzubov (Ukr) 1-1 goes to tiebreak; Bruzon Batista Lazaro (Cub) drew with Hikaru Nakamura (Usa) 1-1 goes to tiebreak; Maxime Vachier-Lagrave (Fra) beat Boris Grachev (Rus) 1.5-0.5; Jorge Cori (Per) drew with Alexander Grischuk (Rus) 1-1 goes to tiebreak; V Anand (Ind) lost to Anton Kovalyov (Can) 0.5-1.5; Karjakin Sergey (Rus) lost to Daniil Dubov (Rus) 0.5-1.5; Alexander Motylev (Rus) drew with Anish Giri (Ned) 1-1 goes to tiebreak; B Adhiban (Ind) drew with Ian Nepomniachtchi (Rus) 1-1 goes to tiebreak; P Harikrishna (Ind) drew with S P Sethuraman (Ind) 1-1 goes to tiebreak; Le Quang Liem (Vie) lost to Vidit Gujrathi (Ind) 0.5-1.5.
Topics mentioned in this article
[ad_2]

Source