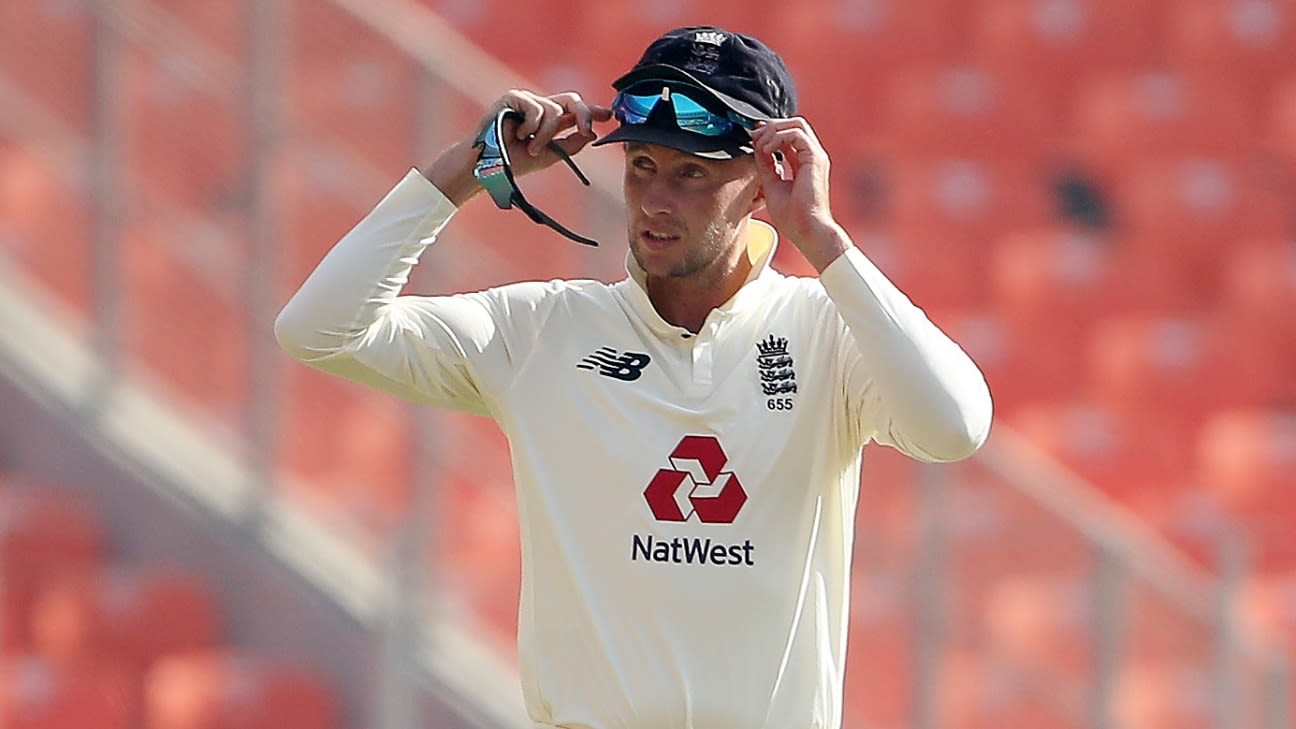 India vs England – Joe Root backs changes to county cricket in aftermath of series defeat
[ad_1]

News
England captain wants better pitches, more points for a draw in County Championship
Joe Root has reiterated his call for changes to be made in county cricket to provide players with better preparation for the international game.
Root, England's Test captain, suggested that flatter wickets and a change to the bonus-point system might result in conditions more akin to Test cricket. In particular, he argued that better batting surfaces would bring spinners into the game more and provide batsmen with the experience of playing the sort of long innings that tend to define results in Tests.
At present, the County Championship tends to be dominated by seamers making use of a Dukes ball and helpful surfaces. As a result, low-scoring games have become commonplace and opportunities for spinners are limited.
Root has previously advocated the use of a Kookaburra ball for a portion of the season, and speaking in the immediate aftermath of England's 3-1 Test series defeat in India, he suggested things would have to change if England were to have a better chance of winning such series in the future. "I do think that there are areas of county cricket that can be improved – quite easily as well," he said.
"They need to find ways of making games last four days, giving spinners the opportunity to bowl and learning to bowl at different stages of the game. They need to learn to hold the game in the first innings if it's not spinning and things are not in your favour so they can give the seamers some respite. Then they need to be able to attack and to really deal with that pressure of trying to bowl a side out.
"It's not just spin, it's seam as well, and the batting group. For example, you want guys to come into this environment of Test cricket and have that knowledge of what it's like to go out in the second innings and know the opposition have 450 on the board.
"They need to be able to ignore that scoreboard pressure, put it to the back of their mind and get a score. And to go beyond another team's score to make sure you're massively in the game when it comes to the second innings.
"It's the same with the seamers. You want them to have a range of skills that can exploit flat wickets. Can they change their angles round? Can they go up and down the gears in terms of pace? Have they got a five-over spell in terms of short-pitched bowling?"
While few would dispute the logic of Root's words, there is a major practical obstacle to producing better pitches. In recent years, the County Championship campaign has been conducted disproportionately in the early weeks of the season – in 2021, eight of the 14 rounds of the competition are scheduled to take place before the end of May with four more played in September – when it is tough for groundstaff to provide the type of hard, flat pitches Root mentioned.
Although Root dismissed the suggestion of abandoning the window for white-ball cricket that dominates the fixture list in the weeks of mid-summer – "that's there to stay," he said – which might enable groundstaff a chance to provide better surfaces, he suggested that greater rewards for drawn games might provoke a rethink about pitches at county level.
At present, teams are awarded 16 points for a victory, with drawn games worth five points each. Teams are also awarded up to eight bonus points for runs and wickets in the first 110 overs of the first innings.
"If draws are more appealing, because of the amount of points on offer, it might improve our situation slightly," Root said. "They're all the things that will improve the game and Test cricket for England in the long run if the games go longer."
George Dobell is a senior correspondent at ESPNcricinfo
[ad_2]

Source